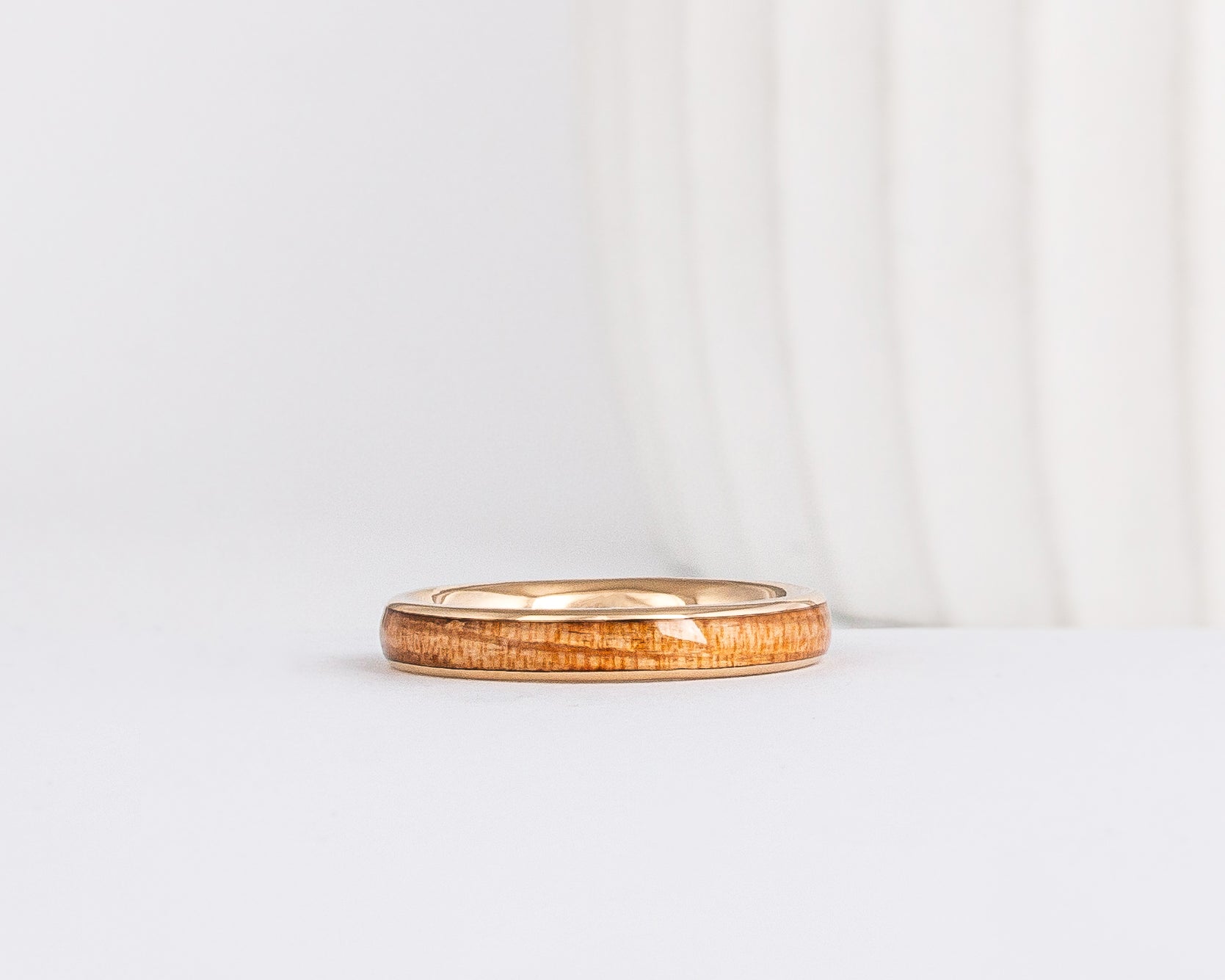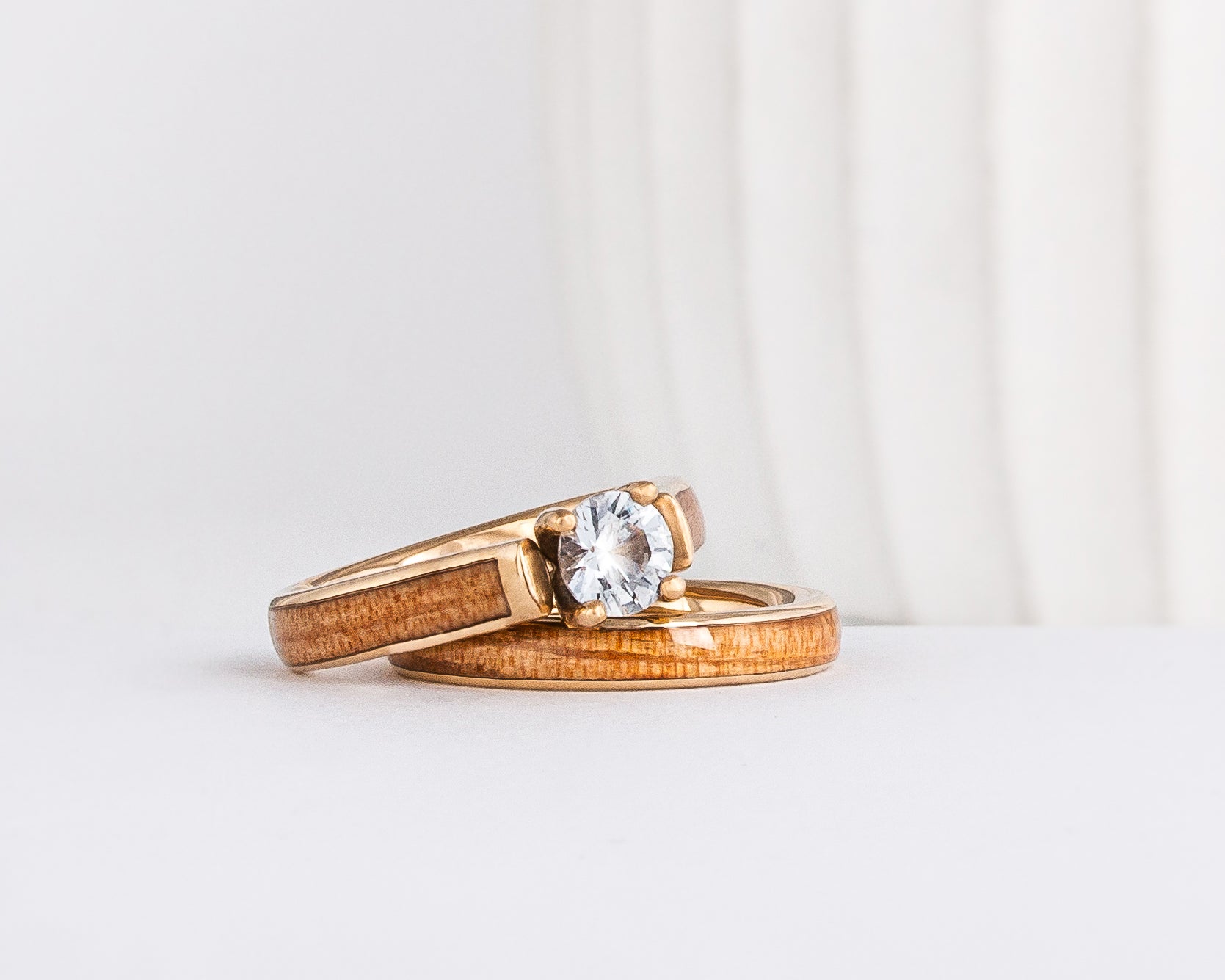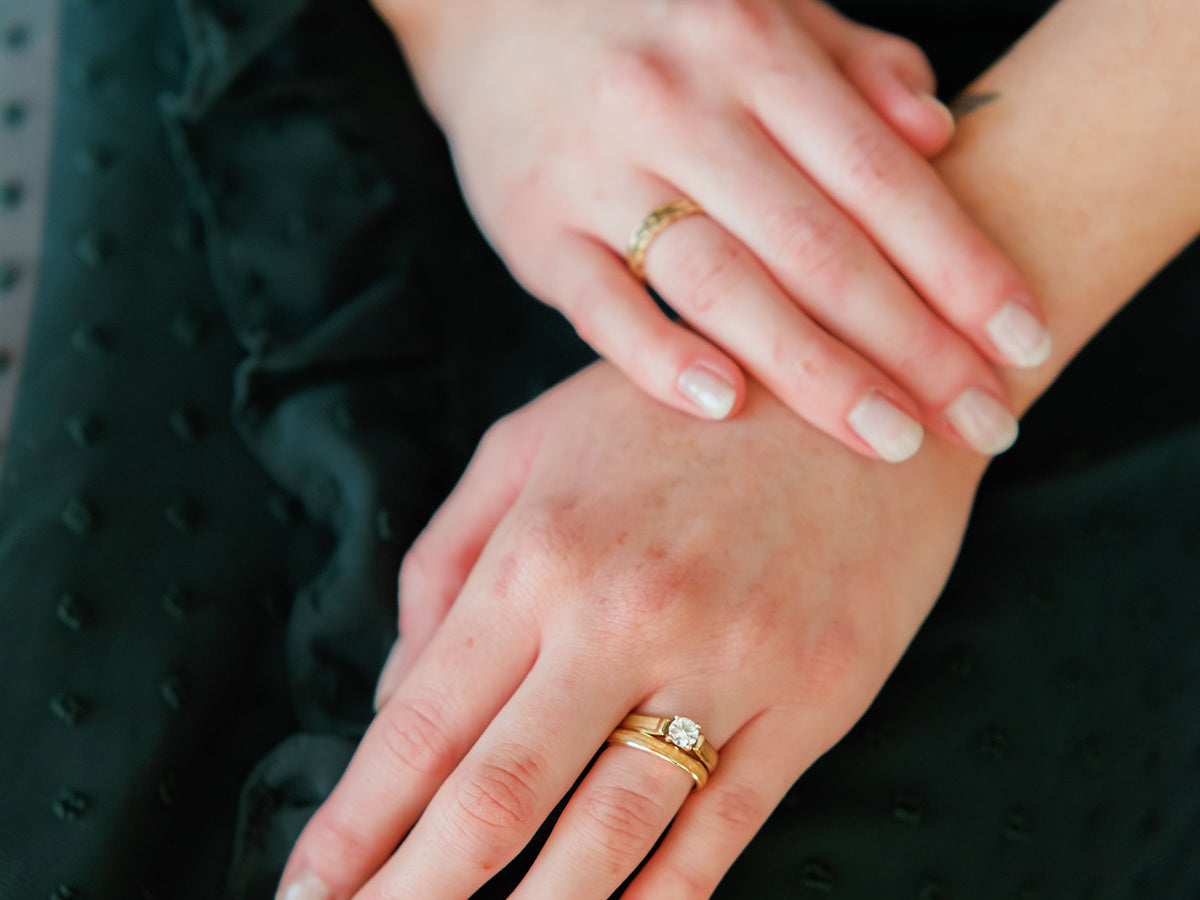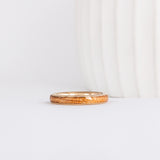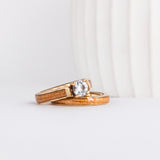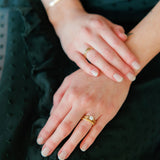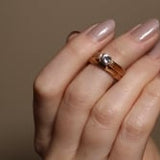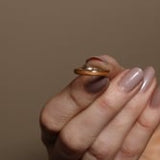 Avery in American Elm & Yellow Gold
This beautiful yellow gold band is the perfect complement to our signature solitaire. The rounded profile and comfort fit band make it a comfortable and stylish choice. The 3mm width is classic and timeless, while the American elm wood inlay adds character.
Materials:
American Elm (United States)
100% SCS Certified Recycled Gold

Shown is size: 4.5
Width of band: 3mm
Height of band: 2mm
Inner profile of band: Comfort fit
Handmade to order in 2 to 3 weeks
---

Free shipping on orders over $500
---
---
---
Avery in American Elm & Yellow Gold
FAQ

Can I Customize This?

Absolutely! We love to work with our customers to make their jewelry truly their own.

Reach out to us and we can work together to make exactly what you've been searching for.

Can I send my own wood/materials?

Most of the time, yes! Some woods work better than others, but you can likely find a good candidate close by. Fruit trees and hardwoods like oak and maple work best.

You could also consider other natural materials like rock, sand, or shells.

It's best to reach out to us with your ideas and we can work with you individually on the material you have.

How well does the wood hold up?

By placing our bentwood inlays inside of our gold rings, we've created the strongest version of a wood ring.

While a wood inlay still needs some care, you'll be able to wear this ring daily for most normal activities. We recommend you take it off when using harsh chemicals, or doing activities that are hard on your hands as you can scratch the gold and the wood portions.

Can it get wet?

Absolutely! Our rings are designed for normal daily wear. Our owner swims daily in a saltwater/chlorine mix pool without issue. The acrylic coating we add over the wood protects the inlay.

If you notice any gouges/scratches or chipping in this finish you may need to have it refinished before resuming wearing it while in water.

What kind of care does it need?

We recommend taking your ring off when using harsh chemicals (such as nail polish remover, harsh cleaning products, or medicated creams), and when you do activities that are hard on your hands such as working with power tools or rock climbing.

Aside from that, we say where your ring for most other daily activities. If you notice any dull spots on the wood, cracking of the acrylic finish or other issues you can send it back to us for free refinishing. You just need to pay the shipping.

Can you rush my order?

We always try our best to help our customers meet their goals, but some things can't be rushed.

Since all of our pieces are handmade to order there is a certain time constraint we have to work within.

It's best to reach out to us with your deadline before ordering if you are on a tight schedule.
Shipping

Why does this ship Duty Free to the USA?

These products are made entirely in Canada at our Nova Scotia workshop. The USMCA (United States, Mexico, Canada Agreement) means that products made in these locations can ship duty free to the others listed in the agreement.

Does that also mean it ships to Mexico duty free? Yes, although shipping costs may be prohibitive but we'd love to work with you if you live in Mexico.

Shipping Providers

We offer shipping through UPS or Canada Post/USPS.

Each ring is made to order and may take several weeks to create, but when it is ready to ship we send it so it arrives quickly and discreetly.

Fully Insured with Order Tracking

Your ring will ship with full insurance and with tracking. You can easily follow it's progress and rest assured that your package will be delivered safely.

Discreet Packaging

While orders shipping over international borders will have some information attached that may give away what is inside, the box itself and name is discreet to help hide any surprises.

You can also work with us to find a UPS Access Point where it will be delivered away from your home.
About us

Craftsmanship

At Northwood, our dedication to craftsmanship ensures that every piece of jewelry is meticulously crafted to perfection. Made by our talented team in our little studio in Nova Scotia, our creations reflect our unwavering commitment to quality.

Creativity

Our team infuses every piece with heartfelt creativity. We're here to collaborate with you, tailoring each creation to your unique style, or you can choose from our thoughtfully designed pieces, all crafted with love and passion. Your vision becomes our inspiration.

Connection

We believe in creating jewelry that fosters connections, celebrating the love and relationships that make life truly special. In addition, we take pride in taking care of our jewelry and our customers, ensuring your experience with Northwood is exceptional in every way.