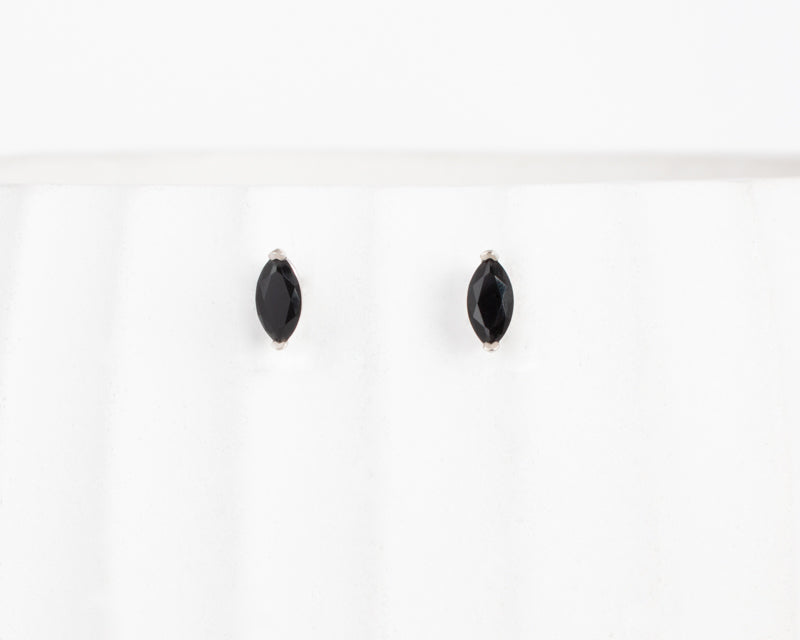 Black Onyx Marquise Studs
A harmonious fusion of classic elegance and modern sophistication, these striking earrings feature Natural Black Onyx gemstones in a marquise cut, offering a bold and stylish statement.
Each earring showcases a captivating 7x3.5mm marquise-cut Natural Black Onyx, carefully selected for its deep, rich color and high-quality finish. The sleek, elongated shape of the marquise cut adds a touch of refinement, while the onyx's intense black hue emanates an air of mystery and allure.
Set in 14 karat white gold, the earrings boast a sleek, contemporary appeal that seamlessly complements the striking tones of the black onyx. The smooth, polished finish of the white gold provides an exquisite backdrop for the gemstones, creating a harmonious balance between the contrasting elements.
Our Black Onyx Studs set in 14K White Gold are more than just a beautiful accessory – they symbolize strength, protection, and grounding energy. Black onyx is believed to provide its wearer with emotional support and resilience, making these earrings not only visually stunning but also meaningful and empowering.
Elevate your style and make a powerful statement with our captivating Black Onyx Studs set in 14K White Gold. Indulge in the beauty, elegance, and symbolism of these exquisite earrings.
Materials:
Natural Black Onyx
100% SCS Certified Recycled Gold

Shown With:
Natural Black Onyx
14K White Gold
Earring Size: 7mm x 3mm
---

Free shipping on orders over $500
---
---
---
Black Onyx Marquise Studs
FAQ

Can I Customize This?

Absolutely! We love to work with our customers to make their jewelry truly their own.

Reach out to us and we can work together to make exactly what you've been searching for.

Can I Send My Own Materials?

Most of the time, yes! We love to rework customer materials into our pieces.

It's best to reach out to us with your ideas and we can work with you individually on the material you have.

Can You Rush My Order?

We always try our best to help our customers meet their goals, but some things can't be rushed.

Since all of our pieces are handmade to order there is a certain time constraint we have to work within.

It's best to reach out to us with your deadline before ordering if you are on a tight schedule.
Shipping

Why does this ship Duty Free to the USA?

These products are made entirely in Canada at our Nova Scotia workshop. The USMCA (United States, Mexico, Canada Agreement) means that products made in these locations can ship duty free to the others listed in the agreement.

Does that also mean it ships to Mexico duty free? Yes, although shipping costs may be prohibitive but we'd love to work with you if you live in Mexico.

Shipping Providers

We offer shipping through UPS or Canada Post/USPS.

Each ring is made to order and may take several weeks to create, but when it is ready to ship we send it so it arrives quickly and discreetly.

Order Tracking and Insurance

Your ring will ship with full insurance and with tracking.

You can easily follow it's progress and rest assured that your package will be delivered safely.

Discreet Packaging

While orders shipping over international borders will have some information attached that may give away what is inside, the box itself and name is discreet to help hide any surprises.

You can also work with us to find a UPS Access Point where it will be delivered away from your home.
About us

Craftsmanship

At Northwood, our dedication to craftsmanship ensures that every piece of jewelry is meticulously crafted to perfection. Made by our talented team in our little studio in Nova Scotia, our creations reflect our unwavering commitment to quality.

Creativity

Our team infuses every piece with heartfelt creativity. We're here to collaborate with you, tailoring each creation to your unique style, or you can choose from our thoughtfully designed pieces, all crafted with love and passion. Your vision becomes our inspiration.

Connection

We believe in creating jewelry that fosters connections, celebrating the love and relationships that make life truly special. In addition, we take pride in taking care of our jewelry and our customers, ensuring your experience with Northwood is exceptional in every way.